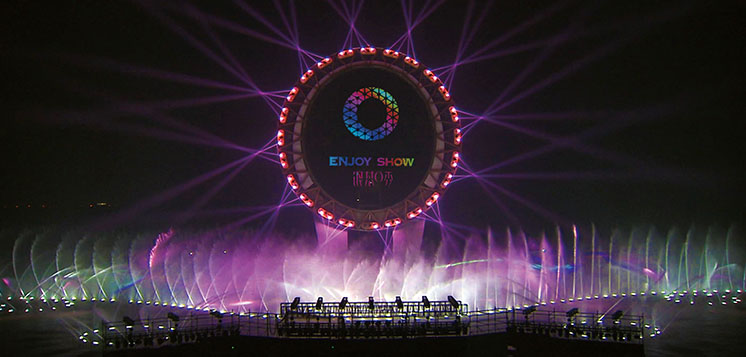 The Yinji 'O' Show complex in the new districtof Kaifeng, situated in China's Henan province, has recently been equipped with cutting edge production technology, including lighting effects from PR Lighting.
The Chinese manufacturer won the tender basedon the ability of its PR-5000 series to meet the criteria for waterproof fixtures, with an advanced feature-set and the ability to work under high temperatures.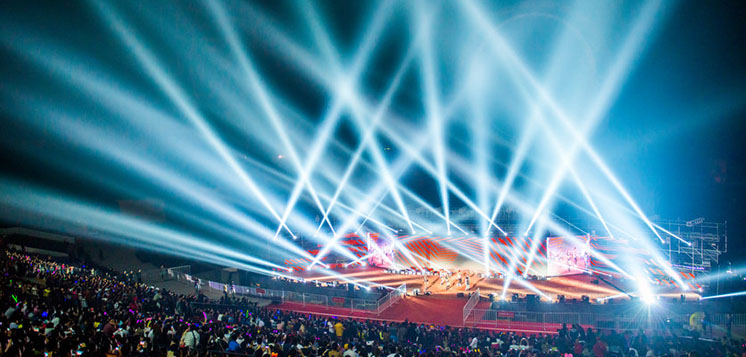 For with live concerts, lighting and laser shows, projection onto water screens, fountain shows and fireworks, the venue has been designed to be bothby dynamic and flexible.
Owned by the Yinji Development Company the venue measures 46m high and 36m wide, and the Yinji 'O' Show'slarge central ring structure, located opposite the main stands, is reported tobe the largest of its kind in the world.
The 22m-wide covered area can hold up to 11,000 spectators, which was the case for the Yinji 'O' Show'sopening night last October during the Kaifeng Chrysanthemum Festival, headlined by South Korean star, PSY.
The lighting designer from Sigongtech specified 75 of the advanced, powerful PR-5000 Wash/Beam fixtures and 22 x PR-5000 Spots, which were custom designed in order to be able to operate in the fountain shows, and were installed on the big "O", the most remarkable partof the complex.These were supplied direct to the production and installed by the contracting team.
The Yinji 'O' show complex will run formally from March 2014, on a daily basis, placing high demands on the production's durability — another reason why the designers opted for the reliability of PR Lighting with such an arduous duty cycle.
The clients themselves were quick to praise the consistency of the units, adding that the colours, brightness and all aspects relating to the PR-5000's were perfect.