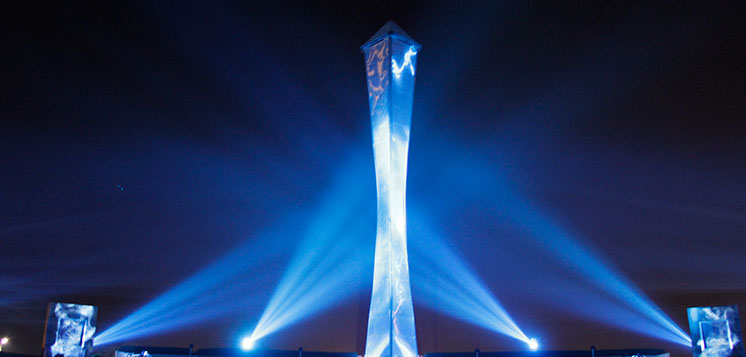 The amazing Guru TeghBahadur Memorial structure in New Delhi has been brought to life with astunning light show — featuring fixtures from PR Lighting. The newly programmed show is the result of a design from the attraction's lighting director, Himanshu Sabharwal, in conjunction with Modern Stage Service's VarinderWadhwa.
This architectural marvel,situated on the main highway, gives an insight into the life and teachings of the ninth Guru of the Sikhs and the illumination has been described as "worldclass".
Modern Stage Service (MSS) —PR Lighting's Indian distributor — was brought in as a result of the company's long association with Mr.Sabharwal, and Wadhwa specified 16 XR 300 Beam and 12 PR-8802's. Mounted on both the ground and the structure itself, they are triggered intoaction daily after dark from an Avolites Titan Mobile in conjunction with a DatatonWatchout system.
The XR 300 Beam, equipped with 300W Platinum 15R lamp and convex lens, produces a super-concentrated parallel beam with an incredible output, making it ideal for long throw applications such asthis.The architectural, IP67-rated PR-8802 features two stacked heads, containing a total of 216 3W LEDs (54 each RGBW). With a lens angle of 14° (field angle 32°) it delivers an incredible output.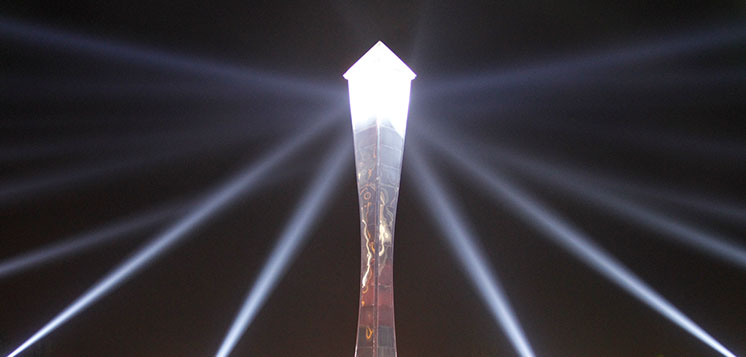 The Monument remains one of Delhi's hidden treasures.The central pylon of the structure itself represents Guru TeghBahadur while the three semi-arches represent his three disciples. Ten monoliths surrounding it represent 10 Sikh Gurus and disseminate their teachings.
According to the MSS director everyone is delighted by the impact created by the new design.