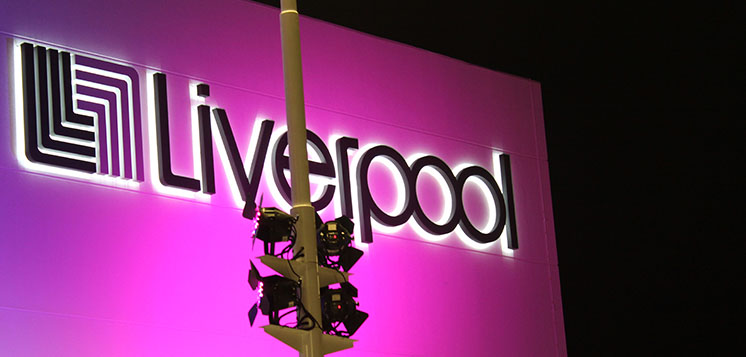 When last year Liverpool, Mexico's largest department store chain, opened its flagship unit in Villahermosa,some 63 xPR-8800 LED fixtures (each containing 108 x 3W RGB LED's) were used to wash the building.

Now the Chinese manufacturer's Mexican distributors, Hermes Music, have confirmed that an even greater number of PR Lighting's LED sources have been deployed at the larger Liverpool store in Puebla, which wasrecently remodelled. And this time Hermes have specified 104 of the super bright XPar 390 spots to bring the building to life after dark.
Each RGB head contains 90 x 3W high quality LEDs (24 each of RGB and 18 white) with full colour mixing and linear CTO.Critically, it also has a beamangle of 14° and field angle of 28°.
Explaining the choice, Hermes Music's lighting specialist, Ricardo Segura Between the main wall and the lattice façade thereis only 40cm to install — butthe beam needs to flood light across 38 meters. From the lamp source to the highest point in the façade the XPar 390 provides the perfect solution." de la Cruz, said the decision was based on space and the need for acompact fixture with a wide diffusion."
He said the solution had been created by installing a metal plate, using the same rods which attach the lattice to the main wall. The metal plate sits horizontally on the rods and the fixtures arebolted to it. It can then be adjusted for better placement, enabling the lighting to work in conjunction with the façade.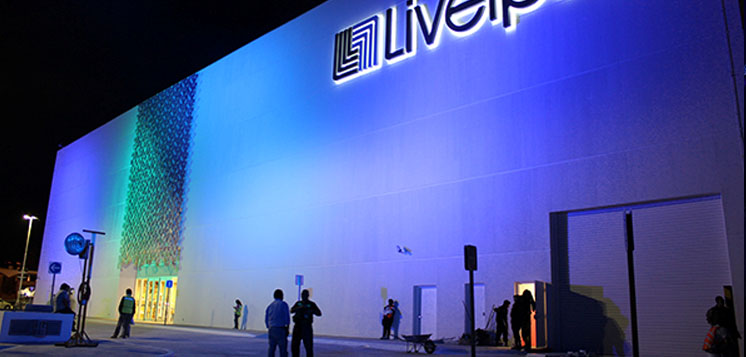 However, the IP67-rated XPar 390 does more than just colour wash the walls. Since Pueblais where Mexican independence began (and the seminal battle took place) the country's green, white and red vertical striped tricolour is represented on two of the main walls — part of the genius of lighting designer Joseph C. Rubenak Vargas(from AGISA). This is visible from far away and attracts crowds in its own right.
Mr. de la Cruz confirms that PR Lighting solutions nowfeature in ten Liverpool stores, with three more confirmed — and a fourth provisionally set for what is rumoured to become the largest mall in LatinAmerica.
In fact Liverpool operates in no fewer than 27 shopping malls. Its 85 department stores comprise 57 under the Liverpool name, with 23 stores under the Fábricas de Francia name, five Duty Free stores and 27 specialised boutiques.