San Antonio, Texas, May 21, 2013 - Mega-Lite Reseller BP Lighting permanently installed 12 PR Lighting fixtures at the AT&T Center in San Antonio, Texas. Four PR-5000 Spot units are flown underneath the score board and eight XR 200 BEAM units are flown midway up the score board in the center of the arena.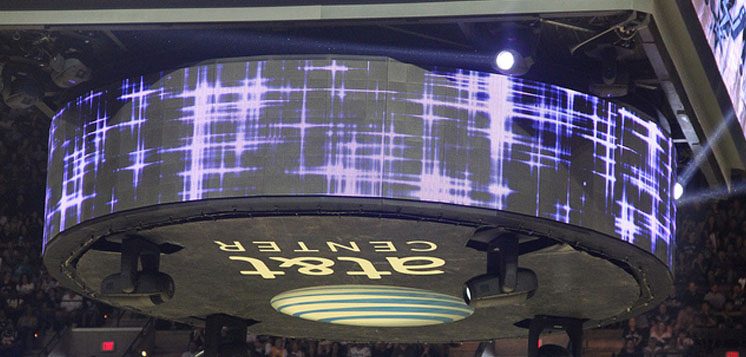 The AT&T Center is home to the NBA SanAntonio Spurs, WNBA Silver Stars and AHL Rampage. The venue required fixtures that could work for all the games held at the AT&T Center. Troy Bishoppetty, Owner of BP Lighting Sound & Video LLC, and BP employee Daniel Melendrez recommended PR-5000 Spot and XR 200 BEAM fixtures from PR Lighting.
The PR-5000 Spot provided the output required to cut through the ambient light of the arena. "It's so bright in there, so we needed something that could really punch through," says Bishoppetty. "The PR-5000 Spot fixtures gave us the brightness we needed." The venue also wanted a unit that could do gobo projection at a high resolution and display smooth movements, which the unithas. Bishoppetty also liked the incredibly wide zoom feature of the unit.
Midway up the score board, eight XR 200 BEAMs are hung. The challenge was to find a beam fixture that was powerful yet small enough to fit the space. The XR 200 BEAMs were the right size and project color beams with high intensity, even when the venue lights are turned on.
Bishoppetty has had positive experience with the PR Lighting brand. He has had some fixtures out with a band for eight years and has only had to replace the lamps. "Our experience with them has been that they have a solid product," says Bishoppetty. Still, he went the extra mile to ensure he was suggesting the bestlights for the job. He had a member of his staff with product design experience open the fixture and look at its mechanics. He made sure that if they did have to work on them, it would be simple.
The install is great timing with the San Antonio Spurs midway through the Western Conference Playoffs. During the game time opening, the PR-5000 Spot projects the San Antonio Spurs' logo and the XR 200 BEAMs illuminate the court.It's a spectacular light show that makes a huge visual impact. It gives fans even more to be excited about.