The strength and power of PR Lighting's AQUA 580 Beam was again put to the test by major event specialists KvantShow Production, when they projected onto the 111-metre high National Bank of Slovakia HQ in Bratislava.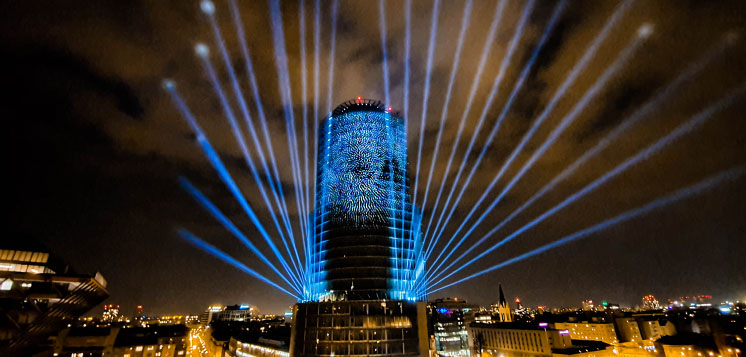 Complementing Kvant's own Laser Spectrum 30W lasers, 24 of PR Lighting's IP66-rated fixtures were deployed as searchlights, with 12 positioned directly on each side of the Bank building terrace and firing into the nightsky. Due to the tight and well-focused 2° beam, with output generated from a Philips 25R 550W engine, calibrated at 7800K, two infinite fat white beams of light from each pair, soared into the distance, and were visible over 5km away.
Meanwhile, BarcoHDX-W20 FLEX projectors were set-up on another building's rooftop, opposite the Slovak National Bank, and projecting over a distance of 130m-150m.
The projection itself was commissioned by the bank to promote a message of solidarity to the population during self-isolation caused by the coronavirus crisis—to create a talking point and be visible across thecity. The light beams themselves represented a message of hope for a new future, and that "we will all make it together". The projection ran nightly between 8pm-12am for five days, culminating on March 29.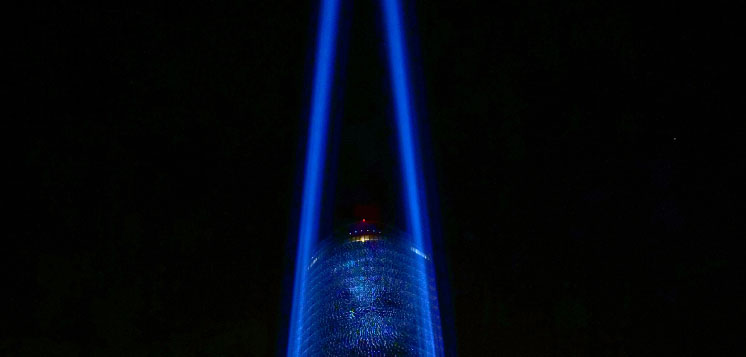 The project was viewed from many windows (since the public are forced to stay at home), butwas presented on local TV, Facebook and in the print media.
Martin Gabco was responsible for the show design, including lights, lasers and timecode sync, while Pangolin BEYOND laser software, capable of controlling ArtNET signals, was preferred as the control medium; this was because the production was using only static beams, and needed merely to control brightness and sync with projection content, lamp control positioning and focus. Content was created by Jan Sicko, and delivered using a Resolume media server, while Vlado Stefanek was the video operator.

StatedKvant CEO, MichalSimkovic. "The display was extremely impressive and proved highly popular with both the bank, who commissioned it, and the general public."

And PR Lighting's Bruce Tian added, "Many thanks to Kvant for producing such a wonderful beam show to help highlight the Coronavirus pandemic. The strength of the AQUA 580 Beam also represents our strength of character to get through this crisis. PR Lighting is standing alongside its partners and clients, showing that same solidarity … and together we will win."