Born into a showbiz family, Pepe Aguilar has been performing from an early age and is today a flag-bearer for the Ranchera and Mariachi genres of Mexican traditional music.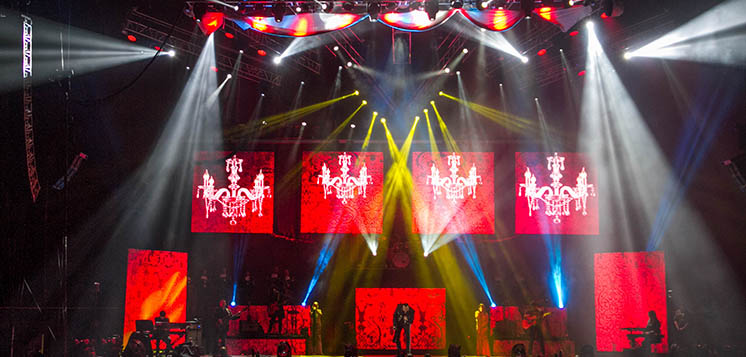 The multiple Grammy award-winning star has had his stage shows lit by Ricardo Ortizduring the past year — with the LD dipping heavily into the catalogue of PR Lighting for his design solutions.

A veteran of some 15 years in the live concert, festival and touring business — particularly in his native Mexico —Ricardo and his partner, video director Hector Ortega, have kept the look of the production ever-changing as it has moved from venue to venue.
At the LA Forum recently the full lighting rig was in play, including seven raked elements of truss, fanning outwards from upstage centre. Five of these extensions were terminated in large white claws, giving the rig the impression of a large cat's paw. This was complemented by a front truss to provide key stage lighting as well as audience FX, an upstage truss and a floor package.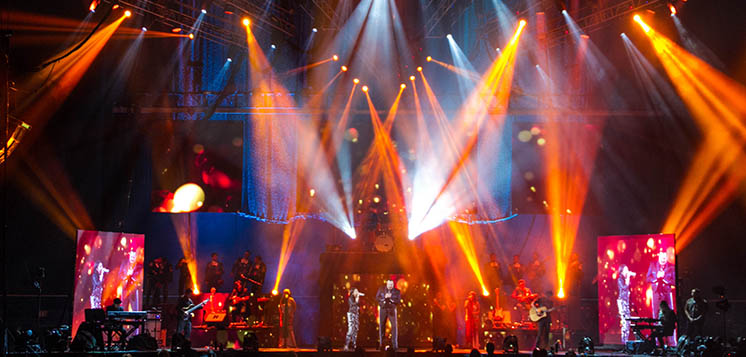 With a show lasting two-and-a-half hours and 21 band members on stage much is expected of the lighting — and Ricardo Ortiz has made good use of fixtures made by PR. "I chose these lights specifically because I needed speed of response, constant functionality and brightness," he said. "The LED lights such as the PR Wash XLED 3019 and the PR XLED 2007 give me a basic color to wash the whole stage. For the thin beams of light, I make use of the PR XR300 Beam fixture — it has 14 colors on a wheel and moves quickly." The lighting is run from a full size grandma — Ortiz's favoured desk.
Providing the big gobo looks and hard edged beams was the PR XR1000 Spot. "I love the gobos that come with this fixture," he said.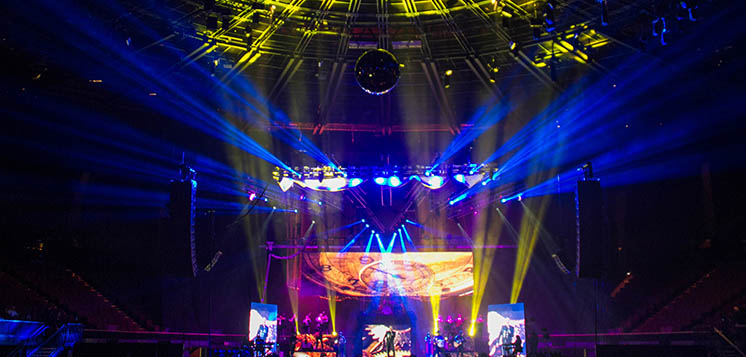 The tour rig also included XS LED strobes from Mega-Lite of Texas, who distribute the PR brand in the U.S, while emanating from the deck upstage centerare a pair of 30-watt full color lasers.
The video setup for this big show at the Forum included a large landscape LED wall upstage centre.Inventory was supplied by First Born Productions of Los Fresnos, Texas.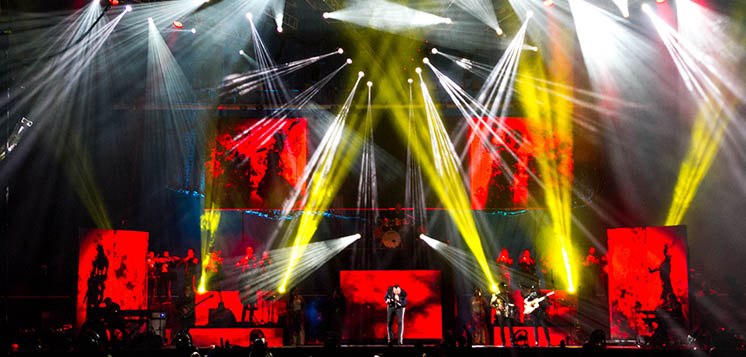 Ricardo Ortiz is quick to praise the design team, including producer Gabriel Jauregui. "With designs dictated by time of load in, distance between venues and, of course, the venue itself, we strive to accomplish all the requirements the artist has specified."